The health and well-being of you and your family are a top priority at Citi. We know that each employee has different needs when it comes to benefits. It's critical that we meet those needs, especially in these uncertain times.
Every year we focus on how adequately our benefits serve the needs of our employees. We want to make sure all of our employees have access to affordable medical coverage while making as few changes as possible to our core benefits.
This year we're also excited to introduce a new partnership with Virgin Pulse to give you more ways to earn Live Well Rewards. And, you can visit our new Virtual Benefits Fair to learn more about your Citi Benefits.
Annual Enrollment, from October 5 to 23, 2020, is your chance to choose benefits for next year. Here's what's changing for 2021.
What you pay for medical coverage is changing for 2021. Citi's philosophy is to support our lower-paid employees by contributing more towards their medical coverage. To do that, historically we looked at each employee's benefits eligible pay and grouped employees into five "pay bands."
For 2021, to better align medical premiums with our employee demographics, we're increasing the number of pay bands from five to nine. This change will allow us to distribute the cost for medical coverage more fairly among our employees.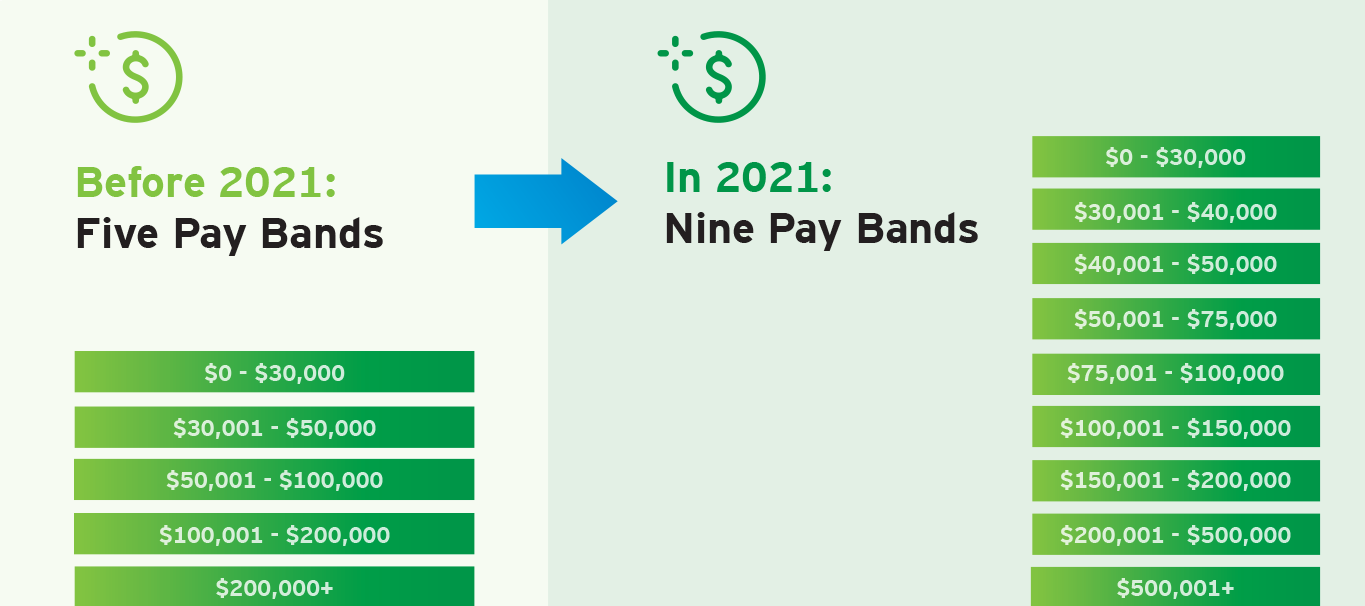 Learn more about Citi's pay bands.
Each year, Aetna and Anthem negotiate different discounts with doctors and hospitals in each state, which Citi passes on to you. As a result, the cost for medical coverage can vary by carrier each year, and is changing in certain states for 2021:
Maryland, Ohio and Pennsylvania
In these states, medical coverage through Anthem plans will cost less than medical coverage through Aetna plans in 2021. To save money, find out if the doctors you use and nearby hospitals participate in the Anthem network. If so, consider an Anthem medical plan for 2021. See below for more information on how to check plan networks.
Connecticut, Florida, New Jersey and New York
In these states, medical coverage through Aetna and Anthem plans will now cost the same regardless of which one you choose. You'll now have more choice and flexibility to find a doctor or hospital that's most convenient for you, at the same cost. See below for more information on how to check plan networks.
The Independent Health HMO will no longer be offered for 2021. If you're currently enrolled in the Independent Health HMO, you will be automatically enrolled in the Anthem ChoicePlan 500 medical plan for 2021 unless you take action during Annual Enrollment.
Beginning October 1, many of our Live Well at Citi programs will switch from RedBrick Health to Virgin Pulse. Virgin Pulse will not only give you access to even more ways to earn rewards, it is also designed to make it easier (and fun!) to engage through your computer or smartphone at home and on the go.
The change to Virgin Pulse is easy. Simply register for Virgin Pulse via My Total Compensation and Benefits, online or use the Virgin Pulse app, which you can download to your Apple or Android smartphone.
The MetLife Preferred Dentist Program (MetLife PDP) will cost less per paycheck in 2021. You can review and make changes to your dental coverage elections by visiting Your Benefits Resources™ (YBR™), available through My Total Compensation and Benefits.
You'll have the chance to purchase up to five extra vacation days to use in 2021. Look for more information coming in November.